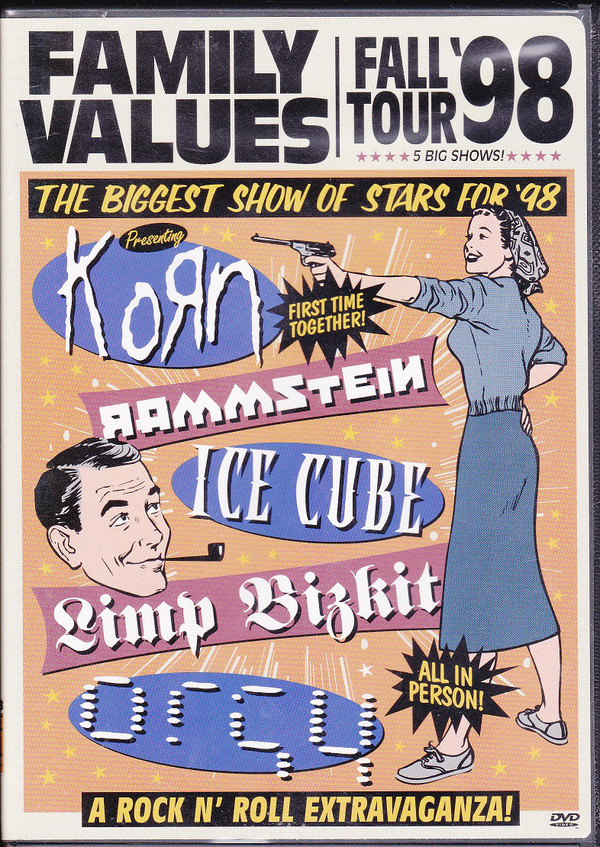 Tracklist:
Limp Bizkit – Cambodia
Limp Bizkit – Counterfeit
Limp Bizkit – Faith
Limp Bizkit – Jump Around
Ice Cube – Check Yo Self
Ice Cube – Fuck Dying
Ice Cube – It Was a Good Day
Ice Cube – Fuck Tha Police
Orgy – Blue Monday
Orgy – Stitches
Orgy – Revival (ft. Jonathan Davis)
Korn – Blind
Korn – All in the Family (ft. Limp Bizkit)
Korn – Got the Life
Korn – A.D.I.D.A.S.
Korn – Children of the Korn/Wicked (ft. Ice Cube)
Korn – Faget
Available Audio Tracks: English (Dolby Digital 5.1),
English (PCM Stereo)Total Running Time: 98 min.
Family Values Tour '98 is a live DVD that was released on 30 March 1999. It contains live footage from two concerts, 18 October 1998 and 31 October 1998. It also includes behind-the-scenes footage and interviews.
Information
There is a deleted scene from the DVD that shows the band members getting ready backstage at the Halloween gig in Fairfax. Their oufits might've been too inappropriate as they got arrested for the same reason. (Link)
Rammstein's performance was recorded on 18 October 1998 and besides Du hast and Bück dich, the entire performance of Asche zu Asche, parts of Sehnsucht and a snippet of the intro part of Engel can be found as well.