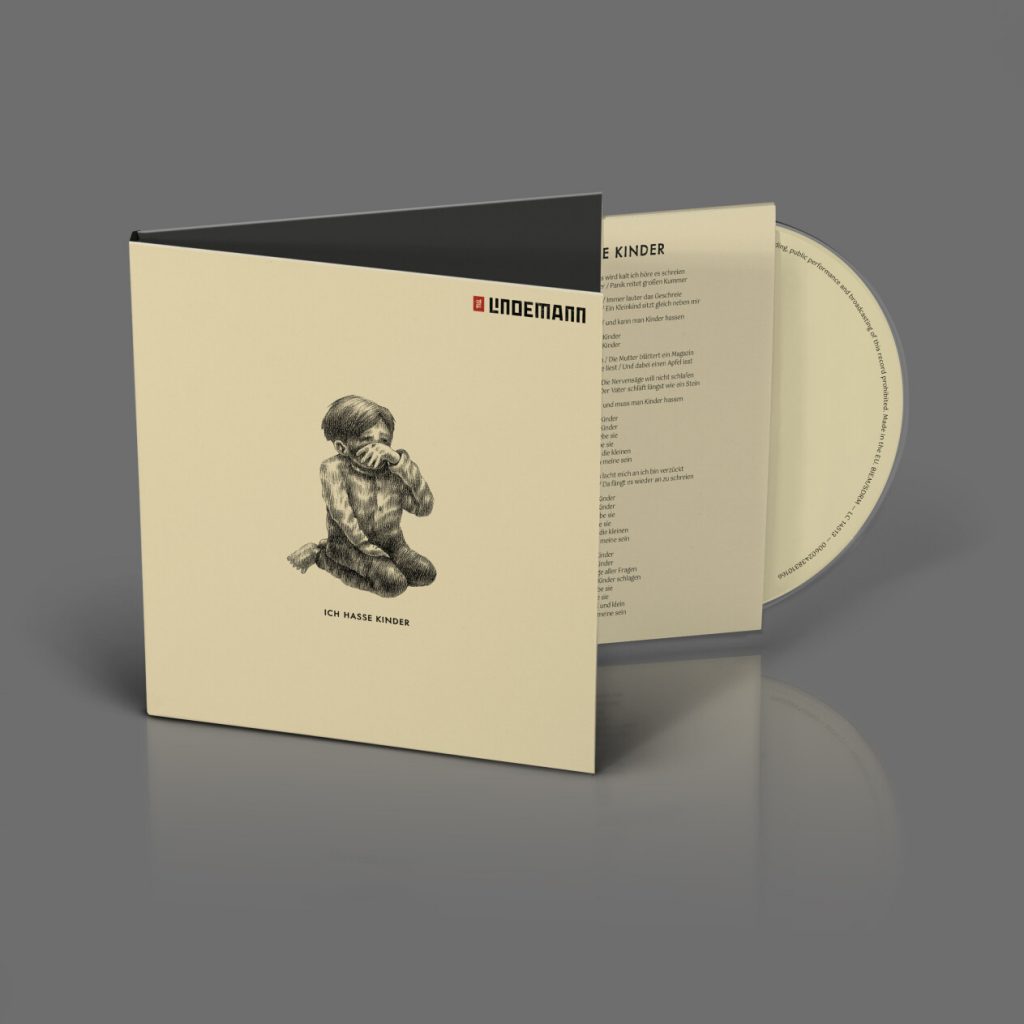 The single is available as a limited CD single in digipak.
Tracklisting:
Track 1 – Ich hasse Kinder
Track 2 – Ich hasse Kinder – AlterBoyz Remix
Source: https://shop.rammstein.de/en/catalog/whats-new/till-lindemann-cd-ich-hasse-kinder.html
Pre-ordered on 31-05-2021
---
---
EDIT:
The association Rammstein-Singer is of course obvious. But Till Lindemann has long been the most interesting solo artist. The variety of styles and inventiveness of his own productions amaze you again and again. A current example is the single "Ich hasse Kinder" (I hate children), which will be released on Tuesday, June 1st at midnight sharp, in keeping with "International Children's Day"!
Lindemann takes up an everyday scene of the screaming toddler on the plane, on the bus, on the train. But if you study the text more closely, you will quickly see that you really love children – irony emoji: at least your own!
Till Lindemann is a real pop culture unique, he is constantly exploring new things, also as an author of poems or as a visual artist. Its programmatic denominator is surprise. He has no musical reservations.
Neither in the hit song "Every day is no Sunday" in a duet with violinist David Garrett, once morbid and classic, once in a brutal techno mix, nor in the recently released Russian classic "Lubimiy Gorod" ("Beloved City"), one emotional soundtrack ballad for the film drama "Devyatayev", including an orchestral version and a video filmed in the empty St. Petersburg Hermitage. The concert film "Live in Moscow" from his now completed "Lindemann" project with the Swedish multi-instrumentalist Peter Tägtgren has also just been released.
So now the next chapter, the first under the name "Till Lindemann".
"I hate children" turns out to be hard electro-metal with an extremely martial hookline! The title will be released on June 1st. first in digital form, including two remixes. The video also premieres at midnight on Till Lindemann's YouTube channel!
Physical single CD and corresponding vinyl with the AlterBoyz remix will follow on July 9th.
Tracklist:
01 Ich hasse Kinder
02 Ich hasse Kinder – AlterBoyz Remix
From: https://coretexrecords.com/Till-Lindemann-Ich-Hasse-Kinder_1