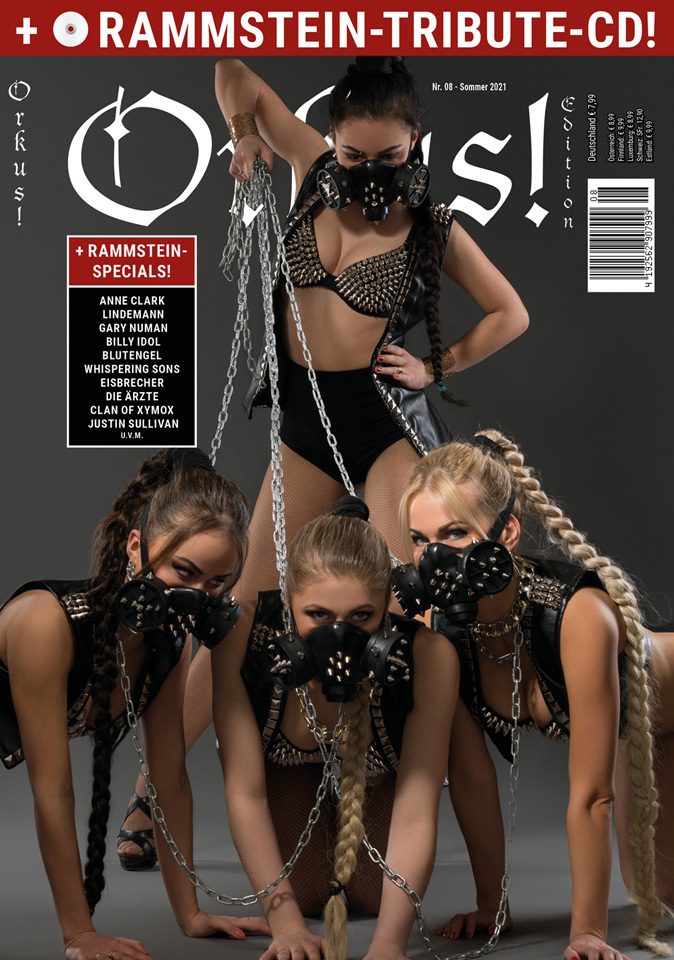 Das Magazin für Dark Rock – Electro – Gothic – Dark Metal & more.
Orkus!-Sommerausgabe 2021 mit RAMMSTEIN-Tribute-CD!
• RAMMSTEIN-Specials inkl. Tribute-CD "Salut!"
Interviews & Storys
• ANNE CLARK • LINDEMANN • GARY NUMAN • ROME • BLUTENGEL • DIE ÄRZTE • DR. MARK BENECKE • JUSTIN SULLIVAN • WHISPERING SONS • DORNENREICH • EISBRECHER • KIRLIAN CAMERA • L'ÂME IMMORTELLE • LIV KRISTINE • MISTER MISERY • NACHTMAHR • LORE • CLAN OF XYMOX • TANZWUT • WOLFENMOND • SKOLD • HERR NOX • HOLGER MUCH • ERDLING • u.v.m.
Source: https://www.orkus.de/ https://www.orkus-shop.de/p/orkus-sommer-2021
Salut! A Tribute to RAMMSTEIN – Die CD:
Ohne Frage ist RAMMSTEIN eine Band, die nicht nur für viel Aufmerksamkeit sorgt, sondern auch viele weitere Musiker beeinflusst. Wir alle sind Zeitzeugen, wie diese einmalige Formation überrascht und fasziniert. So kam bei uns die Idee auf, ausgesuchte Songs der Meister der Songkomposition von jungen Acts neu vertont zu präsentierten. Gerade auch bei einer Coverversion zeigt sich erneut, wie perfekt ein Lied ist. Hier nun mit dabei sind Songs zum Beispiel "Engel", "Mein Herz brennt", "Du hast", "Mein Teil", "Du riechst so gut" oder "Rosenrot". Insgesamt 12 Tracks von ausgesuchten Acts! Mit Coverversionen ist es ja manchmal so eine Sache … Doch hier geht die musikalische Dankesreise gekonnt und mit Abwechslung wie beispielsweise von einem echten, großen Chor, über peitschendem Rock bis hin zum niederwalzenden Metal zur Sache. Höre einfach selbst! 🙂
Danke an Rammstein!
Danke für die Kreativität!
Danke für den Mut!
Danke für die Aktivität!
Danke!!!